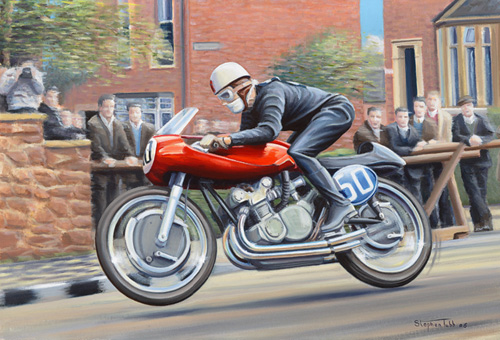 Available as a signed limited edition Giclee print



The Duke (Geoff Duke I.O.M TT)
Acrylic on board
Mountain Man (Bob McIntrye taking first 100mph lap)
Acrylic on board
Stirling Moss (Rob Walker Ferrari )
Acrylic on board
Indian Attack
Acrylic on board
Cracking the Boards
Acrylic on board
Steve Tubb
Steve lives and works in Wootton Bassett in Wiltshire. Steve paints in acrylic mostly, and his main source of inspiration is the vintage racing and motor sport era.
Steve has a deep and passionate interest in the older generation of motor bikes and racing cars, which comes across wonderfully in his paintings.
Steve's work is becoming very well known in the racing and motor sport arena.
Contact Details:
tel: (07770) 945643

web: www.tubbart.co.uk
email: stevetubb@skylightpublishing.com