Photographing artworks
A Guideline for photographers - how to photograph paintings.
Photographing artworks well requires care and attention to a few common sense principles. If you want the best results and intend to have fine art giclee printing done from your digital files you should ideally get the job done by a specialist photographer (such as Skylight Publishing). However if you intend to try it yourself or use another photographer you/they should look to follow these guidelines:
use studio lights, two at approx 45 degree angle to the painting.
use flat even lighting and avoid light spill from outside sources (soft boxes help)
set camera white balance to the available light (ideally set in camera to current light)
use a good quality prime lens (50mm up to 105mm is suitable)
use a sturdy tripod
use the camera self timer or the mirror up function with a remote shutter release
include a grey scale reference in the shot (one with and one without)
or use a colour reference in the shot if possible
if possible for large images, photo image in overlapping sections for stitching into one larger file.
shoot in camera RAW mode with neutral saturation, brightness and contrast if possible
Set f stop to around f8
use lowest possible ISO
if possible use cross polarization method
if varnished painting then definitely use cross polarization method
only use someone who has real experience photographing artwork.
Once photographed the image/s need to be colour balanced to match the original artwork, seen in natural daylight conditions. The photographer must be using a calibrated quality monitor. Any image sent to me I must assume has been colour balanced and is ready to print. I will supply you with an accurate print of what is on the digital file. Supply me with Tif files if possible, with resolution set to 360ppi. Highest quality jpeg files are an acceptable alternative if TIFF files cannot be provided. You will need to be confident in the file and in the photographer who supplied it to you.
Monitor calibration
Your PC monitor may not be properly calibrated to display correct colour and white balance which will affect how you see images on your screen. It is very common for consumer systems to be overly bright and over saturated for effect. Use this gray scale image below as a gauge. You should be able to see the subtle difference (at least) between X,Y and Z and also A, B and C. Colour should be a neutral gray in all boxes.
What is Giclee Printing?
Originally from a French word (Giclee or Giclée) it means 'little squirt' and refers to squirting fine drops of ink or dye onto paper or canvas. The term is properly applied to fine art giclee prints produced on high quality large format professional inkjet printers specially designed to print high quality Fine Art Giclee prints.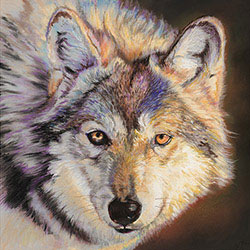 Providing a quality fine art printing service in the South West, we are based in Calne, Wiltshire (near Bath, Bristol, Swindon, Chippenham, Marlborough, Devizes) and within easy reach of Newbury, Reading, Hungerford, Cheltenham, London and the South West, exiting the M4 at Jn15 or Jn16.