Cross Polarization Method
Artwork Photography Guidelines using cross polarization
Any artwork will reflect light off the surface which will tend to cause colour to be less saturated and produce specular highlights, especially on paintings that have been varnished.
To eliminate all these unwanted highlights and produce deep rich colour you need to used a cross polarized lighting method. The principle is this:
set up two studio lights with soft boxes to diffuse the light
fix polarizing filter sheets over the front of the lights
place the lights either side approx 45 degree angles to the artwork
use a quality circular polarizing filter on the camera lens
use a good quality prime lens and focus the camera
with lights on, turn the circular polarizing filter until you see all surface reflections disappear
if using flash units, take a few shots turning the filter each time to achieve the above
make sure you have set exposure after you do the above
There is a consideration you have to make when the artwork contains any refelctive materials, like gold or silver leaf (or gold paint). Using this process all that lovely reflective light is totally removed. You need to employ a different process for this kind of work. Will be described in a forthcoming article.
Monitor calibration
Your PC monitor may not be properly calibrated to display correct colour and white balance which will affect how you see images on your screen. It is very common for consumer systems to be overly bright and over saturated for effect. Use this gray scale image below as a gauge. You should be able to see the subtle difference (at least) between X,Y and Z and also A, B and C. Colour should be a neutral gray in all boxes.
What is Giclee Printing?
Originally from a French word (Giclee or Giclée) it means 'little squirt' and refers to squirting fine drops of ink or dye onto paper or canvas. The term is properly applied to fine art giclee prints produced on high quality large format professional inkjet printers specially designed to print high quality Fine Art Giclee prints.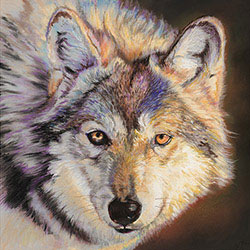 Wolf - pastel painting by Paul Cummings
Providing a quality fine art printing service in the South West, we are based in Calne, Wiltshire (near Bath, Bristol, Swindon, Chippenham, Marlborough, Devizes) and within easy reach of Newbury, Reading, Hungerford, Cheltenham, London and the South West, exiting the M4 at Jn15 or Jn16.