Monitor Calibration
What you see is not always what you get!
The old saying 'what you see is what you get' is not always true when it comes to computer monitors and what you see in print. In fact unless you have a good quality monitor designed for graphic work and unless it has been properly calibrated, you most likely won't get in print what you see on the monitor.
Most consumer monitors are set up to show images that are over bright, over contrasty and over saturated, because they look impressive like that. But behind the scene, the actual digital file could look quite different. Often a pc screen will also have a partial shift in hue r which is another way the screen can be misleading.
Calibration
In the giclee printing business we need to work with calibrated monitors, and we need to use high end screens designed to provide the maximum colour gamut possible. We use specialist tools to read the light brightness and hue given off the screen for a known set of colours. The brightness and hue are read accurately and the variance from what it should be is recorded. Software communicates with the monitor settings and adjusts the monitor brightness and hue to arrive at the 'correct' settings to show us the true colour (well near as is possible with hardware limitations in mind).
If the giclee printer used has been likewise calibrated, we can be confident that what we see will indeed be what we get.
At Skylight Publishing we follow clear guidelines and practices to ensure we work with calibrated monitors and printers to ensure good colour management at all times. You can be assured of top quality giclee prints.
For more information read our blog entry:

The above greyscale ramp should help to indicate your monitors ability to render images correctly. There should be no observable colour hue in any square, and you should be able to determin the difference between all the squares right up to black and white.
Spectrophotometers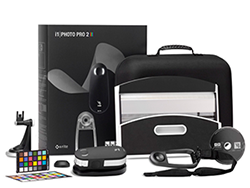 There are number of tools available on the market these days for monitor calibration. These range in price from about £75 to over £1,000. Our advice is even the cheapest device is better than doing nothing. Read our blog for more information.
We use the NEC Spectraview 2690 monitor primarily, and callibrate with a Gretag Macbeth i1Pro .
Budget Priced options (under £100):
Datacolor Spyder3Express
Datacolor Spyder4 Express
more Professional options:
X-Rite i1 Display Pro