The Lost Parade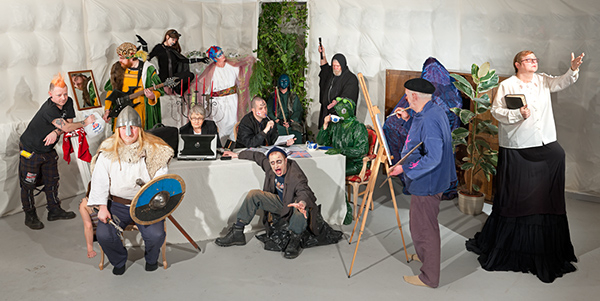 'The Last Parade' Sheena Dean (photography by Gordon Burns)
Available as a signed limited edition giclee print.

High Definition Large Format Photography for
Community Art Project (Swindon 2010)
This high definition photograph was created for a community arts project conceived and managed by artist Sheena Dean. Swindon based users of the mental health services were asked to participate in a project designed to give them an expressive outlet for their inner feelings about their various states of mental health, and their experiences of the mental health services. Each participant created a costume that expressed some aspect of their feelings, and the group were then brought together by Sheena for a photograph in a staged set scene at the Post Haste Gallery in Swindon.
The photograph was produced by Gordon Burns of Skylight Publishing using a stitched panoramic process similar to that he uses for reproducing large artworks. The scene was photographed in 12 overlapping sections (6 along the bottom and 6 along the top). These were stitched together on the computer later and produce a file which was printed 4' x 8' onto perspex. The image is now on permanent display at the Post Modern Gallery, Swindon, and will go on a UK wide tour. Sheena Dean website: www.jungleshine.co.uk
Pixels in depth
Digital photography pixel resolution is increasing all the time. Leading DSLR's can now output 20 Megapixels or more, and top medium format digital sensor backs currently around 50 Megapixels. Image resolution is increasing all the time.

Even so - they are all still limited to the resolution of the digital sensor. High Definition (or High Resolution) photography carried out by Skylight Publishing expands on the limits of the sensor array, by taking multiple images of a selected scene/object, all focusing in on a small section, and each shot overlapping the others adjacent.
These are then digitally stitched back together into one large digital file. Digital pixel resolution in this method can produce images many hundreds of Megapixels, even Gigapixel images!

Click here to read a full in depth explanation of this technique.