Benefits of fine art giclee printing
for artwork reproduction.
Giclee printing (or Giclée) has become much more affordable now than it once was. The main benefit is that you the artist or photographer is in full control of how many prints you have printed at any time, helping to fully manage your cash flow. There is no denying the superb quality achievable now using this process with modern giclee printers and inks. This enables you to offer affordable high quality reproductions of your artwork or photographs to a much wider audience than otherwise is the case. You maximize the financial return for your efforts and open up your images to appreciative buyers who otherwise would be unable to afford the pleasure of seeing your work hanging on their walls.
We have over 10 years of giclee printing experience and artwork photography, and most of our work comes from happy customers repeat business and referrals. That speaks volumes.
We only use archival quality papers and canvas, and we only use genuine Epson Ultra-Chrome HDR inks. We have a fully colour managed workflow to ensure your get top quality prints every time. Customer reviews speak for themselves.
Prices are typically £0.05 per suare inch or less depending on paper selection and print volumes (guidline only). We are very competitive in our pricing without ever compromising on quality. Call now for more information and a free quote.
Digital Image Capture requirements
We provide a specialist fine art photography service for artists which ensures Hi-Fidelity giclee prints at all times. You won't get a better service or better results for the same price anywhere. See our Photography page for details.
Alternatively, you can take your work to any qualified specialist photographic service to have your work digitally captured, and rates will vary between service suppliers. Make sure your photographer understands the specialist needs for photographing artworks ready for giclee printing. You need to supply us with a high resolution digital file preferably saved in a TIFF format at 360dpi. Top quality (minimum compression) JPEG files are an acceptable alternative where TIFF files are not available.
A mistake artists often make is to think a 'good quality' consumer digital camera would produce a file 'good enough' to use. You would very probably be disappointed with the printed results. We strongly recommend you try our fine art photography service first for your giclee printing.
Pricing and marketing of your prints
How do you price your prints? This is a question often asked. We can offer advice and support. See our pricing and marketing page.
What is Giclée Printing?
Giclee (or Giclée and pronounced 'gee-clay' ) - originally from a French word it means 'little squirt' and refers to spraying fine drops of ink or dye onto paper or canvas. You could say it's another word for an inkjet digital print process and you would not be wrong. The term is properly applied to fine art prints produced on high quality large format professional inkjet printers specially designed to print high quality Fine Art prints.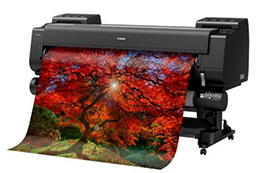 We use the Epson Stylus Pro 9900 printer for our giclee printing. This state of the art 11 colour printer prints up to 44" wide on heavy weight 100% cotton rag archival quality acid free papers and canvas. Using Epson's UltraChrome HDR Inks, the giclee prints are reported by the manufacturers as light fast for at least 200 years.

Providing quality giclee printing services in the South West, we are based in Calne, Wiltshire (near Bath, Bristol, Swindon, Chippenham, Marlborough, Devizes) and within easy reach of Newbury, Reading, Hungerford, Cheltenham, London and the South West, exiting the M4 at Jn15 or Jn16. See the map on our Contact page.