Fine Art Photography Service
Photography and scanning of artworks for giclee printing.
We provide top quality fine art photography services as part of our 'all in house' fine art printing services. We capture hi-definition digital photographs exceeding the capabilities of most large format studio cameras. High levels of detail are captured to ensure high-fidelity giclee printing. Specialist cross-polarized lighting ensures a faithful reproduction with full rich colors and no unwanted surface glare or reflections (typical with oil based paintings, but is evident on all media to some degree). We can successfully photograph artwork that has been varnished or is behind glass.
Our goal is to produce the highest quality digital capture of your artwork as possible. This is to eliminate the need to digitally enlarge the captured file ensuring the highest possible printed reproduction. Using a stitched composite method this can require between 2-12 separate shots to capture the full image. When digitally stitched back together using specialist software the result is stunning clarity and detail, just what you need for the highest quality fine art printing. Read More.
Our abilities at photographing artwork have been very highly praised. Get this step right and producing giclee fine art prints of the highest standard are possible.
Colour Balancing
This is a very crucial stage and we have acquired years of experience getting this right. We take a lot of care to make every effort to get the colour balance as close as possible to the original artwork.
If you have to get you artwork photographed elsewhere, read this guideline.
Cost Guidelines
£0.06 per square inch (plus £30 base) -
Example image 20"x30" will cost £66.00
Example image A3 (approx 12"x16") will cost £41.50
Example images 30"x40" will cost £102.00
Discounts apply where multiple artworks are to be photographed at one time.

This will include 1 FREE giclee proof at A4 size (approx) for images A3 or larger. Further A4 giclee proof prints will be charged at £2.50 each. This is a one off cost and you will receive a copy of the digitized file on CD-ROM as an uncompressed 16bit TIFF, 8bit uncompressed TIFF and High Quality JPEG, all at 360dpi. (this is the normal optimum resolution for Epson inkjet printers).
Monitor calibration
Your PC monitor may not be properly calibrated to display correct colour and white balance which will affect how you see images on your screen. It is very common for consumer systems to be overly bright and over saturated for effect.
Use this gray scale image below as a guide. You should be able to see the subtle difference (at least) between X,Y and Z and ideally also A, B and C. Colour should be a neutral gray in all boxes.
What is Giclee Printing?
Originally from a French word (Giclee or Giclée) it means 'little squirt' and refers to squirting fine drops of ink or dye onto paper or canvas. The term is properly applied to fine art giclee prints produced on high quality large format professional inkjet printers specially designed to print high quality Fine Art Giclee prints.
Read More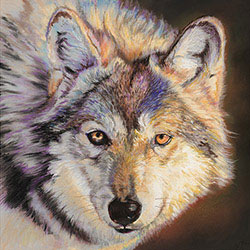 Wolf - pastel painting by Paul Cummings
Providing a quality fine art printing service in the South West, we are based in Calne, Wiltshire (near Bath, Bristol, Swindon, Chippenham, Marlborough, Devizes) and within easy reach of Newbury, Reading, Hungerford, Cheltenham, London and the South West, exiting the M4 at Jn15 or Jn16.