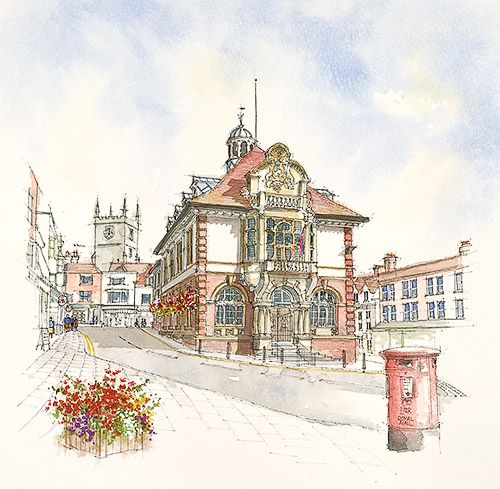 Available as a signed limited addition Giclee print



Marlborough Town Hall
Pen & Watercolour
The Green - Marlborough
Pen & Watercolour
Ivy House - Marlborough
Pen & Watercolour
Rue Norvins
Pen & Watercolour
Colin Palmer

Having completed his apprenticeship as a draughtsman, Colin decided he wanted to follow a more creative path. Thus he spent the next three years studying Architectural and Technical Illustration at art college in London.
After a career spanning some twenty years working in studios and agencies in and around London, Colin has settled in Marlborough, Wiltshire where he works from his studio/gallery shared with other artists.
Following his commission to paint every building along Marlborough High Street, Colin's original paintings and fine art limited edition prints have been in much demand. To view all art works and prints, together with their availability, please go to the gallery section of his website.
Colin runs watercolour classes at his studio where new members are always welcome. He also runs workshops from the White Horse Book Shop in Marlborough. To find out when the next workshop will be, contact the shop on 01672 512071.
The timeless style of watercolour painting is ideally suited for families who want to give a special anniversary present; a thank you for an idyllic childhood home, a surprise wedding, anniversary or Christmas gift – with a difference!
Colin will work with you to ensure your memories are perfectly preserved – He can portray your home in summer even if you commission him in November... and of course he'll leave out the lamp posts and telegraph poles if you want him to.
For more details visit:
www.colinpalmer-illustration.co.uk
tel: (07835) 039812
colin@colinpalmer-illustration.co.uk