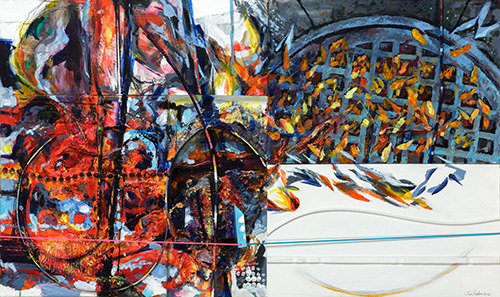 Available as a signed limited addition Giclee print



Detritus
Mixed media on board
76x45cm
Flight
Mixed media on paper
74x53cm
Pool 1
Acrylic on canvas
100x100cm
Forms with Goldfish
Acrylic on canvas
160x80cm
Back Garden, Autumn
Oil on Canvas
40x50cm
Fisherman below the weir
Acrylic on canvas
107x61cm
Lavanderie
Acrylic
on canvas
100x100cm
Thames in spate
Mixed media
on paper
56x76cm
Rum stall, Haiti
Oil on board
24x19cm
James Saxton
James Saxton has frequently been described as a powerful, expressive and dramatic artist. Constantly striving to capture the essence of time and space, James thinks abstractly whilst relating shape, form and texture to the landscape he admires.
Inspired by both nature and the man-made and feeling the compulsion to extract and detail the moment in time, he is obsessed with recording the senses surrounding him. Sometimes, inspiration comes from a mixture of past and present, from a childhood often by rivers with his father to snorkeling in the seas off Grand Cayman.
Having lived and worked in England, the Caribbean and the South of France, James is fascinated by changing light, clarity, brilliance and the patterns of weather. His Art continues to evolve, like the man himself.
Contact Details:
tel: 07773 045404
email: jimsaxton9@hotmail.co.uk