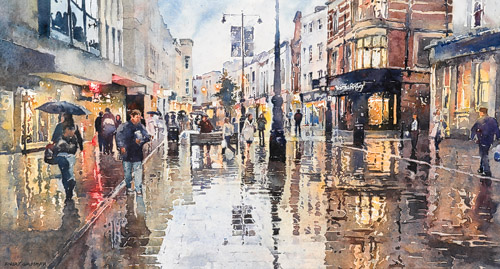 Available as a signed limited addition Giclee print



Cheltenham in the Rain
Watercolour
Cheltenham in the Rain2
Watercolour
Cheltenham (Montpellier) in the Rain
Watercolour
Christmas Lights - Cheltenham
Watercolour
Christmas Lights - Montpellier
Watercolour
Flower Stall II
Watercolour
Flower Stall in the Rain
Watercolour
Poppies 1
Watercolour
Poppies 2
Watercolour
Poppies 3
Watercolour
Robert Goldsmith

A watercolour artist who demonstrates an exceptional and sensitive use of this demanding medium.

Robert Goldsmith is a dedicated artist who specialises in the creation of fine watercolour paintings. Based in Cheltenham, Robert Goldsmith has been a professional artist and illustrator since 1980.
As a fine artist who handles a wide range of subject matter with great skill and sensitivity, Robert's watercolours are highly sought after and have been the subject of many exhibitions. His ability to capture the subtle effects of light and shade, of water and reflections, is particularly evident in his work.
In addition to many local exhibitions, Robert Goldsmith's work has been displayed at the Mall Galleries in London and the Coach House Gallery in Guernsey. Robert Goldsmith is a member of the Fosseway Artists and Dobunni artists' group.
tel: (01242) 579258

web: www.artimesiastudio.co.uk